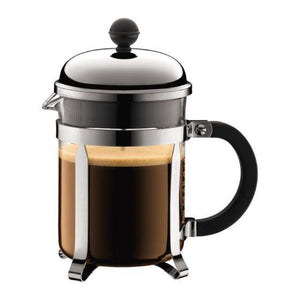 Bodum Chambord, the Iconic French Press Coffeemaker

The French Press system has always been the simplest and ultimate way of brewing an excellent cup of coffee. Using fresh coarseground beans with water between 92 and 96 degrees celsius brings out the very best in all types of coffee. This classic design makes 3 to 12 cups of coffee in just 4 minutes.

History

The Bodum Chambord is a true original and a beloved Bodum icon worldwide. The iconic design, now synonymous with the Bodum name, dates back to the pre-war period.
The Italian, Attilo Calimani, developed the principle behind this product during the 1930s. It began to gain popularity in cafés after the war, achieving its breakthrough in France in the 1950s.
Jørgen Bodum started working on his own version of the French press in the 1970s, being an enthusiast of the coffee that comes from the French press method of brewing.
Bodum started producing its Bistro French press with the French company Melior-Martin who, at that time, manufactured the coffeemakers in their French factory. They produced a dome-shaped version similar to the Bodum Chambord. (The CHAMBORD design was inspired by the tower of the famous French castle Chambord.)
Bodum acquired Melior-Martin in 1991 and brought this icon to households worldwide. The Bodum Chambord was then further developed and improved to what it is today.

Manufacturing
CHAMBORD® is a true original – the classic French press coffee maker designed in the 30's. And it is still produce with the same painstaking craftsmanship used since the original.

- The only difference in the production process since the fifties is our commitment to the highest standards of environmentally correct manufacturing, which is especially important during the chrome plating process.

- The frame and lid, made of stainless steel, undergo several chrome plating processes to obtain a durable shiny surface that will last for many years of intense use.

- The black CHAMBORD® Polypropylene handle comes in a matte finish that not only gives a comfortable grip while serving but adds to the classic quality of the design.
Specifications


| | |
| --- | --- |
| Item Number | 1923-16SAN |
| Color | Chrome |
| Capacity | 12.0 oz |
| Width (cm) | 4.37 |
| Height (cm) | 6.62 |
| Depth (cm) | 3.25 |
| Material | Stainless steel, plastic, borosilicate glass |