Hudson-Athens Lighthouse Teas (tea bags)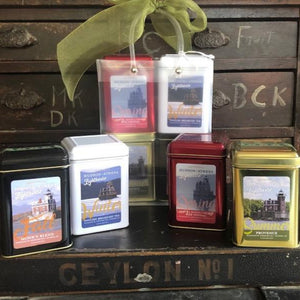 Each tin, containing 25 plastic-free eco teabags, features a tea specially selected to match the season. And each tin shows our beloved landmark, the Hudson-Athens Lighthouse, in all it's seasonal glory. The photos were taken by regional photographer and life-long lighthouse enthusiast, Bob Taylor.
The lighthouse is cared for by the Hudson-Athens Lighthouse Preservation Society. Construction began in early 1873 and was in use by November of 1874. Today, the Lighthouse still serves as an aid to navigation, guiding ships safely around Middle Ground Flats - the island directly opposite Hudson in the middle of the River.
A portion of the sales from these teas will help preserve the landmark for future generations. 
Fall: Monk's Blend from Sri Lanka. Black tea, calendula and sunflower petals, natural flavors. Description: Vanilla and grenadine flavors combine to make a delicious cup of tea. A staff favorite!
Winter:
English Breakfast from Sri Lanka/ Kenya/ India. A coppery, bright, full flavored tea with good body. A best seller.
Spring: Sencha Kyoto Cherry Rose Festival from India/ China/ Egypt. Sencha green tea with rose petals and natural flavors. Description: A best seller made of high quality green tea with fragrant rose and vanilla flavors and a hint of sweet cherry. A beautiful, comforting cup of tea.
Summer: Provence from South Africa/ Chile/ Albania/ Egypt. Rooibos with rosehip, elderberry, and blueberry pieces, lavender, rose petals, and natural flavors.